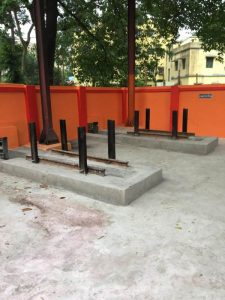 Years ago, in the year 1916,burning ghat was established by the side of the Swaraswati Basin at Domjur Village on a few plots of lands contributed by the local people at the approach of the then founder of this burning ghat, Late Dwarika Nath Ghosal, a resident of North jhapordah Village who made it possible with the help and active co-operation of the local people . Initially , no such activities other than cremation of dead-bodies was heard conducted except observing a yearly festival of kali , the mother ( Deity) in the month of August  ( in Kousi Amabasya). This festival had been continuing since then as usally. Subsequently , two rooms on the ground floor, one as small temple of the Deity and another in front of the then Cremation area, possible for sheltering persons carrying the dead-bodies erected by two benevolent persons of the locality named after Thandaram Das , a resident of North Jhapordah (Rath tala) and Late Natabor Ghosh of South Jhapordah respectively.
With the Passing of time , possibly since 1940, the situation become detorieted for want of any powerful committee or proper supervision etc.this condition contimued for more then two decades the alarming condition drew attention  of some local people who were reported brought the matter to the notice of the then veteran politician, social worker and ex-Jilla Parishad chairman of Howrah District, a resident of North Jhapordah, Late Biswaratan Ganguly who afterwards took initiative and formed a non-register committee to control the situation.
After demise of Biswaratan babu Collective leadership come into being in the administration of the burning ghat . In 2008, the Constitution of Dwarikanath Ghosal sabdaha ghat committee was registered under W.B. Societies Act ,1961. People, out of the Surrounding villages used to represent in the parishad (General body) and committee through election . In this way the organization had achived it's legal status.